Introduction
Rotrex, a leader in designing and manufacturing bespoke winches, was commissioned by AJT Site Services to develop a custom replacement for a damaged winch at a Hydro Electric Generator in Loch Tralaig, Scotland. The project not only showcased Rotrex's ability to adapt to client requirements and incorporate the latest technology but also highlighted the company's design expertise.
Project Background
SSE hired AJT Site Services to remove a winch unit that lifted a screen at a Hydro Electric Generator in Loch Tralaig Scotland. Upon removal, the winch fell apart due to its age. AJT then approached Rotrex to design and build a custom replacement that would use the latest technology in bearings and drum construction. AJT weren't sure what the working load limit (WLL) needed to be but after some research and testing the Project Engineer determined 3t would be sufficient.
Client Requirements
AJT specified the following requirements for the new winch:
Utilization of a 16mm rope with a pull-in length of approximately 16m
Compatibility with the existing Rotork unit for operation
Installation using the existing fixing holes
A protective cover to allow functionality while preventing accidental contact with the drum
Innovative Design Solution
Rotrex analysed the remains of the previous winch and the Rotork unit used for its operation to inform the design of the new bespoke winch. Key design features included:
Elimination of a brake, with braking handled by the worm and wheel
Compatibility with the original Rotork unit, as requested by AJT
Adaptation to the existing upright lifting frame, where the original winch frame was bolted
Expansion of the drum diameter from 8¼" to 12″ to accommodate 16m of 16mm steel rope in one layer
Key Components
A – Input Shaft
B – Worm & Wheel
C – Ratchet Clutch
D – Drum
E – Winch Frame
F – Rope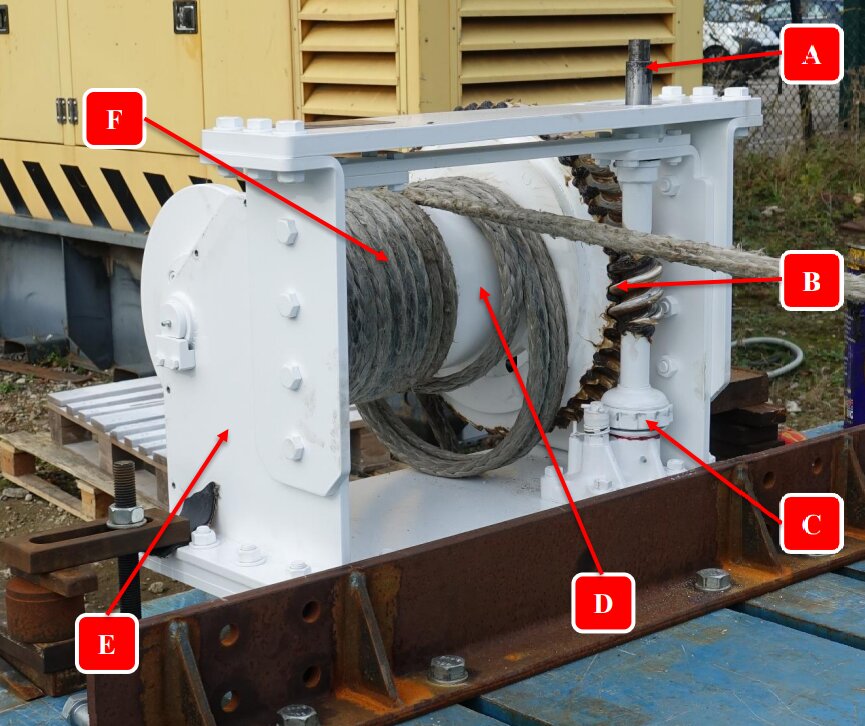 The Installation
Rotrex provided AJT with all necessary measurements and instructions for a seamless winch installation without requiring on-site assistance.
Conclusion
Rotrex's successful delivery of a customized winch solution for SSE's Hydro Electric Generator project in Loch Tralaig, Scotland, demonstrates the company's ability to design and manufacture bespoke winches for complex projects. The collaboration with AJT Site Services not only showcased Rotrex's design expertise but also reinforced the company's reputation as a reliable partner for custom winch solutions.