Introduction
Rotrex, renowned for its custom winch design and manufacturing, successfully completed a project for the Diocese of Shrewsbury by designing and installing 12 bespoke winches to raise and lower chandeliers in a historic church. The winches, expertly crafted and adapted for different support structures, showcased Rotrex's ability to deliver truly unique and tailor-made solutions.
Project Background
Rotrex, the leader in custom winch design and manufacturing, took on an exciting project for the Diocese of Shrewsbury. The Diocese of Shrewsbury commissioned Rotrex to create 12 custom winches for raising and lowering grand chandeliers in one of their churches. Each winch needed an automatic ratchet system for safety and the ability to support stationary loads for extended periods. Each is custom-made, with unique support structures and mounts. The winches are expertly crafted to fit on wooden duck boards, roof trusses, or a concrete plinth.
Client Requirements
The Diocese of Shrewsbury requested 12 winches to raise and lower the grand chandeliers in one of their churches. Each winch required an automatic ratchet system to ensure the load doesn't run away when the winding handle is released. The winches also needed to be able to support the stationary load for prolonged periods.
Innovative Design Solutions
Rotrex's engineering team visited the site to evaluate the chandeliers and determine the maximum intended load and pull length. After weighing the chandeliers, the team established a working load limit (WLL) of 50kg and a wire rope length of approximately 15m.
The bespoke winches feature:
Bidirectional operation without operator intervention.
A design that allows the rope to pass closely to the center of the square aperture in the church ceiling.
A steel rope terminating in a 1-ton shackle for secure chandelier attachment and support by a custom pin.
The Installation
During installation, the winches were attached to three different support structures within the roof, demonstrating Rotrex's expertise in crafting custom winch systems. This project demanded a unique blend of engineering, design, and fabrication skills, making it a truly remarkable achievement for Rotrex and its team of experts.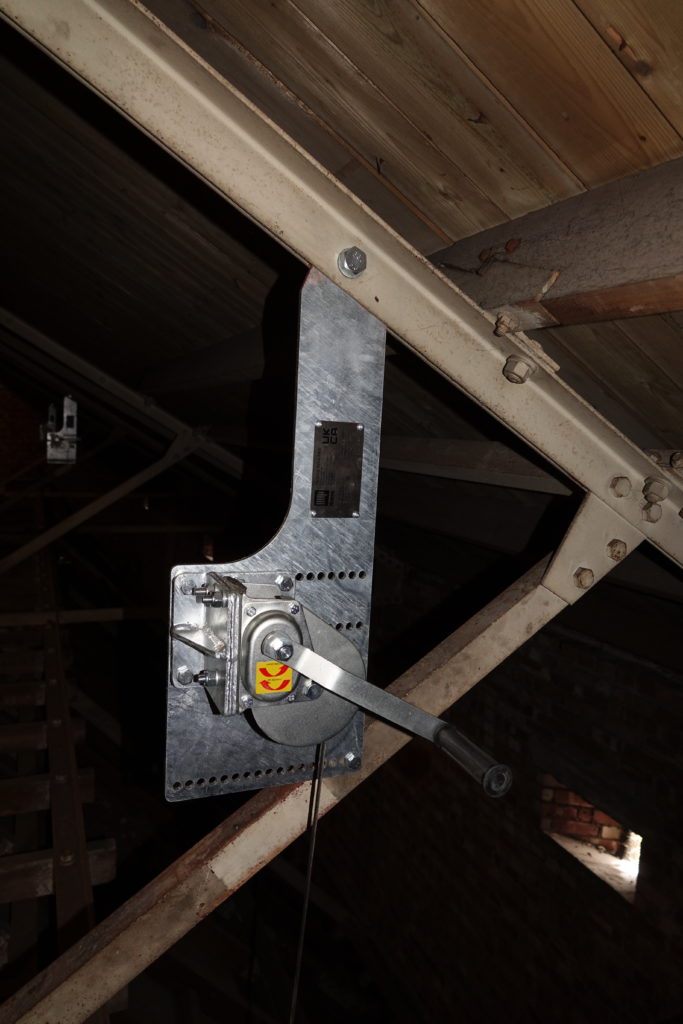 Conclusion
The Rotrex team successfully preserved the beauty and grandeur of the Diocese of Shrewsbury's historic church while showcasing their ability to deliver unique, tailor-made solutions for their clients. The project highlights Rotrex's commitment to design expertise and adaptability in meeting client needs.