When installing cables into pipes and ducts, there is always the risk that the cables may be damaged in the process, scuppering the whole operation. This is a particular worry for sensitive cables such as the fibre optic cables often installed by telecommunications companies.
In tricky situations such as these, cable blowing equipment is often the ideal solution. In fibre optic cable blowing, high speed air flow is combined with a mechanical pushing force to produce the installation known as blowing or jetting.
As these forces are far below the tolerances of the cable, there is little risk of the cable being negatively impacted. With cable blowers also being high mobile, easy to handle and effortlessly reliable, it's easy to see why they are such a popular choice of equipment among the telecoms industry.
Here at Rotrex Winches, we supply two main types of cable blowing equipment: the Fibrecat cable blowing system and the Tornado cable blowing system. Both of these cable blowers offer a cost-effective solution for blowing cables into empty ducts, and are capable of laying even copper cable efficiently and at high speed. Here is some more information about those two systems:
Fibrecat Cable Blowing System
The Fibrecat cable blower is an affordable yet efficient system of blowing in telecommunications cables. Suitable for environments where cable breakage is a genuine concern, the Fibrecat's precision is one of its most impressive elements.
The Fibrecat is able to blow cables from as little as 10mm in diameter to 27mm, in ducts which have external diameters between 32mm and 50mm. When you consider that this only amounts to a measly 5cm of space to work within, this makes the Fibrecat an excellent choice for any telecommunications company.
However, the Fibrecat can equally match its precision with speed. This cable blower has an average cable laying speed of 60m/min, meaning that with this machine, companies can provide large areas with cable coverage in no time at all.
---
Tornado Cable Blowing System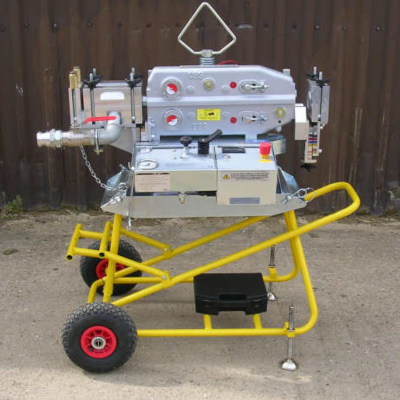 While similar to the Fibrecat, the Tornado cable blowing system is marked by its greater adaptability and speed. This cable blower can cater for smaller cable and duct external diameters of 6mm and 25mm, along with larger ones of up to 32mm and 63mm respectively. This wider range of coverage makes the Tornado a more versatile option.
True to its name, what really sets the Tornado apart from the Fibrecat is its greater speed. This speed demon has a cable laying speed of up to 90m/min. Like a gust of wind, your cable laying work will be done before you know it!
---
So now you know about the two different cable blowers we offer here at Rotrex Winches, why not give them a spin? We offer both the Fibrecat and Tornado cable blowing system for sale and for hire.
If you would like to know more about the Fibrecat and the Tornado, you can contact our team today on  01773 603997 or email sales@rotrexwinches.co.uk. Alternatively, you can also use our Contact Form for a prompt response. Let's make your project a success!